Behind The Scenes clip from Steal My Girl

12
Oct
They're preparing to release their fourth album, and it appears One Direction are ready to show off their wacky side if their video for new single Steal My Girl is anything to go by.
In an exclusive behind-the-scenes clip from the promo shoot, the band can be seen descending on the blazing hot desert outside Los Angeles. The boys look effortlessly cool despite the blazing heat while they perform atop a rocky ridge
But it's Zayn who appears to be having the most fun on set – he takes charge and calls action on the shoot, before dancing to the catchy track with a pair of sumo wrestlers. Taking in the spectacle, the 21-year-old says: 'It's sick. It doesn't look like a One Direction video shoot, it's like some mad movie set.'
It appears Liam also indulges in the bizarre – he can be seen strolling around the set in a glitzy blue and purple band leader's jacket.
Harry refuses to be left out and is surrounded by ballerinas brandishing umbrellas in one sequence.
Speaking about the promo, director Ben Winston told the Daily Mirror: 'It's quite an exciting video. You should expect the unexpected on this one. It's weird and wonderful.'
It was revealed earlier this week that Hollywood royalty Danny DeVito will play a music video director in the promo.
Check our gallery for more pictures:
Source: dailymail.co.uk
One Direction meets Danny DeVito while filming Steal My Girl

11
Oct
A groundbreaking meeting recently took place when
One Direction came face-to-face with Hollywood icon Danny DeVito.
This summit of epic proportions happened in Los Angeles while the boys were filming their music video for 'Steal My Girl'.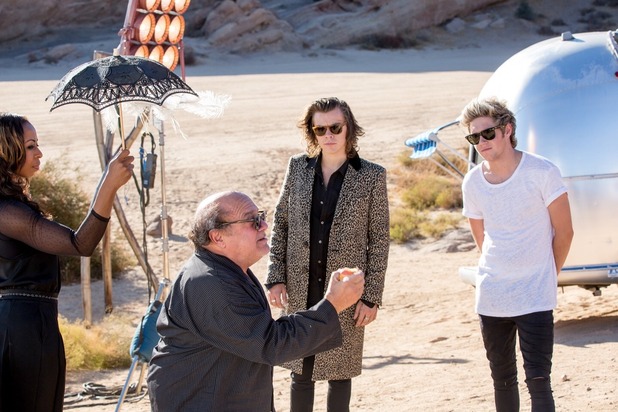 DeVito will be portraying the boyband's director in the 'Steal My Girl' clip, with hilarity ensuing
as he puts the boys through their paces.
One Direction's long-time collaborator Ben Winston is actually overseeing the music video, following
his work on their movie Where We Are – The Concert Film. Winston recently hinted to Digital Spy that
the music video will be "weird and wonderful".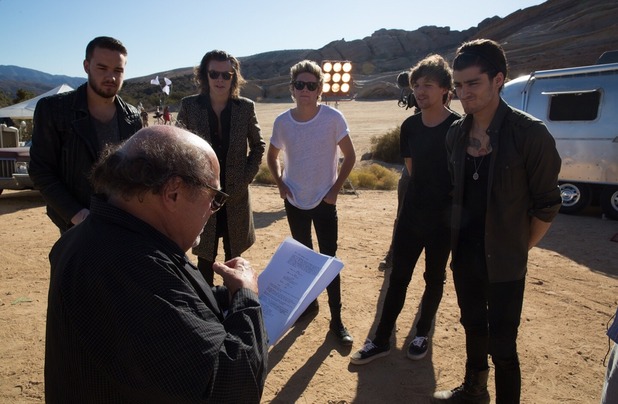 Check our gallery for more pictures:
Source: digitalspy.co.uk
Behind The Scenes Shoot – Anan Magazine

19
Feb
Earlier, I had posted the cover of the japanese magazine – Anan which features the boys. It comes out tomorrow in Japan and I've also added some shots from the behind the scenes of the shoot, the lads look so handsome <3 Check out the photos in the video below! :
BTS of Photoshoot & Interview in Japan

15
Feb
Here's a video of the boys behind the scenes of the photoshoot that they did for a Japanese magazine during their time in Tokyo, Japan this year, whose cover you all previously saw. They also did an interview with Mezamishi TV. Check it out below! :
Behind The Scenes Parade Magazine

18
Nov
Little Things – Behind The Scenes

17
Nov
1D on YOU Magazine!

11
Nov
Wow, another magazine! :'D YOU Magazine, a feature of the Daily Mail, has an exclusive interview and photoshoot with One Direction in their newest issue that's out on Sunday! Make sure you get it to check out their interview and get full sized posters for your wall (: In the meanwhile, check out 10 photos from the photoshoot and the cover photo of the magazine in the gallery by clicking the thumbnails below! (: Also, you can watch a video of the boys behind the scenes of the photoshoot (:
Zayn BTS Take Me Home Photoshoot

10
Nov
Niall BTS Take Me Home Photoshoot

8
Nov
Louis BTS Take Me Home Photoshoot

6
Nov