One Direction will perform at the BBC MUSIC AWARDS

24
Oct
One Direction will perform at the BBC MUSIC AWARDS
On Thursday 11 December, the music world unites for the star-studded BBC Music Awards,
which will be hosted Chris Evans and Fearne Cotton and broadcast live on
BBC One from London's Earl's Court.
The event will feature some of the biggest UK and international artists,
who will come together to celebrate an amazing year in music with a series of breath-taking
musical performances.
For the first time ever, BBC One, Radio 1 and Radio 2 unite for what will be a spectacular
celebration of the best in popular music from the last 12 months.
Awards on the night will include British Artist of the Year,
International Artist of the Year and Song of the Year.
Amongst performances from the biggest and most iconic names in music,
a special place will be reserved for one of BBC Introducing's hottest talents.
The ceremony will go out live across BBC One, Radio 1, Radio 2 and on bbc.co.uk/music. Both BBC Radio 1 and 2 will bring you all the backstage build-up throughout the day. Keep following @bbcmusic for more updates.

One Direction revealed tracklist FOUR

17
Oct
One Direction have revealed the tracklist for their new album Four
Fans on Twitter were asked to get the hashtag #PreOrder1DFOURDeluxe trending in order for the tracklist to be revealed.
The full tracklist for Four by One Direction is as follows:
1. 'Steal My Girl'
2. 'Ready To Run'
3. 'Where Do Broken Hearts Go'
4. '18′
5. 'Girl Almighty'
6. 'Fool's Gold'
7. 'Night Changes'
8. 'No Control'
9. 'Fireproof'
10. 'Spaces'
11. 'Stockholm Syndrome'
12. 'Clouds'
Exclusive bonus tracks (Deluxe Edition):
13. 'Change Your Ticket'
14. 'Illusion'
15. 'Once In A Lifetime'
16. 'Act My Age'
But the boys have announced another bonus for fans.
Anyone who pre-orders the deluxe edition of the album via iTunes will receive five songs ahead of its release next month.
Exclusive: 'Steal My Girl' – First listen review

28
Sep
Exclusive: One Direction's new single: 'Steal My Girl' – First listen review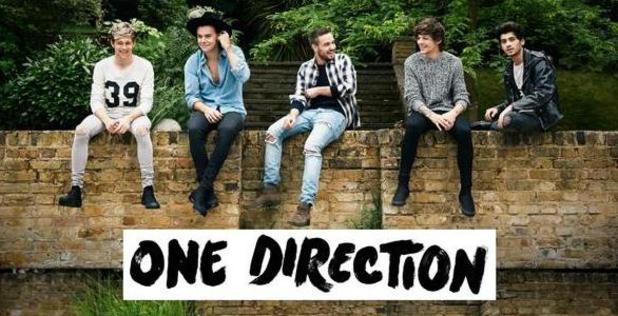 One Direction have little to worry about when it comes to their rivals trying to steal the boyband crown. Their upcoming album Four hit number one on 65 iTunes charts across the world two whole months before it's even released, waiting to add to the 94 official chart-topping positions they've already achieved in their career so far.
However, if its lead single 'Steal My Girl' is anything to go by, the five-piece are a little vulnerable when it comes to potential love rivals.
"She's been my queen since we were sixteen
We want the same things
We dream the same dreams, alright?"
Zayn warns on the opening line – and it's the perfectly-quiffed crooner who takes centre stage for most of the track.
Co-written by Louis and Liam, along with Ed Drewett, Wayne Hector, Julian Bunetta and John Ryan (the 'Best Song Ever' dream team), 'Steal My Girl' begins with a jubilant Elton-meets-ABBA piano line, before it flits between the bouncy riff with added skittering electronics, and light bass guitar strums. It's a minor departure from what we've come to expect from a One Direction lead single, but not so much that it would feel out of place at one of their sold-out shows.
The premise is simple: these guys are head over heels for their childhood sweethearts
"I got it all 'cos she is the one
Her mum calls me 'love', her dad calls me 'son', alright."
And this is a stadium-sized caution for prying scallywags to stay away. Even if
"every jaw drops when she's in those jeans, alright."
Zayn shines on the mid-tempo anthem – especially when he climbs into his magnificent 'You and I'-styled high note for the final chorus – while Niall's "I know, I know" on the bridge, and the epic "Na, na, na, na, na" refrain instantly lodges itself in your brain. Sure, it's pop by numbers, but it's very, very good pop by numbers.
Is this the more mature sound One Direction have been teasing? No, but it's a solid transitional song that will likely lead into the slightly more 'Fireproof' adult contemporary crossover vibe for the remainder of Four. Do we think this is another number one hit for the group? Of course it is! It swoops, it soars – and most importantly, it's insanely catchy.

(Source:
digitalspy.co.uk
)
'1D Official Book' App

26
Sep
One Direction – Who We Are the Official App
Bring the One Direction story, as told in their first ever in-depth official autobiography Who We Are, to life with the 1D Official Book app!
Unlock incredible behind-the-scenes images, exclusive video messages and interviews plus intimate clips from the guys' first ever audiobook EITHER by holding your mobile or tablet over photographs and motifs in the book pages, OR by correctly answering questions about the band in the 100% Official Ultimate 1D Trivia Quiz.
Get the app here!
Check the gallery for some exclusive pictures of the boys!
'1DOfficialBook' App x53 HQ photos
One Direction to Celebrate 'Four' Release at Universal Studios Florida

14
Sep
Directioners wishing to celebrate the release of One Direction's next album, 'Four,' can do so at Universal Studios Florida this November.
The theme park has announced that several One Direction themed events are happening on Nov. 17, the album's release date, including a free concert at Universal CityWalk where the boys will be performing for NBC's 'Today Show.' The performance will be open to the public with no theme park admission required.
For fans who really want to go all out, the theme park has designed some attractions with the boys in mind. For instance, the Hollywood Rip Ride Rockit will be playing One Direction music and the Universal Cinematic Spectacular nighttime show will be 1D themed as well.
And get this: guests who stay at the Cabana Bay Beach Resort will also get special pre-recorded One Direction wake-up calls recorded by the boys themselves.
For more information, visit the park's blog for details.

One Direction's fourth album, 'Four,' hits stores in November; hear new song, 'Fireproof'
9
Sep





Almost exactly a year after releasing its third album, "Midnight Memories," enduring boy band One Direction returns Nov. 17 with its fourth album, the cleverly titled "Four" (Are they in cahoots with Maroon 5, who just released "V," their fifth album? Also, not to be confused with Huey Lewis & The News' "Fore" album)

The British quintet announced the album via YouTube, as well as informed fans about the availability of 24-hour free download of "Fireproof." Two of the band's members, Louis Tomlinson and Liam Payne, co-wrote the new tune with John Ryan, Jamie Scott and Julian Bunetta.

"Fireproof" is a mid-tempo, sweet, wistful tune, which features, per usual, the members trading lines about a love that goes on despite the odds. A drum loop propels it forward, as a nice electric guitar line gives it some heft. It doesn't have an undeniably catchy chorus or build like "Story of My Life," but it's a nice sign as to where the boys are musically now and it sneakily grows on you with repeated listenings.

Boy bands have a built-in shelf life and One Direction continues to make the absolute most of its time in the sun. The band recently finished a wildly successful worldwide stadium tour and its three previous albums have sold more than 46 million copies. "Midnight Memories" was world's best-selling album in 2013.

There are still plenty of albums to be announced for the fourth quarter— including (though unlikely) potential Adele and U2 releases—but it's starting to shape up with Taylor Swift on Oct. 27; Foo Fighters, Nov. 11; One Direction Nov. 17, and Garth Brooks the week after. It's not going to be enough to safe the continuing downward sales spiral (as Katie Hasty wrote about here), but we're probably looking at four weeks where the No. 1 album sells at least 500,000 copies in its opening frame).

"Fireproof" is below the album announcement.






One Direction to perform at iHeartRadio Music Festival
14
Aug




One Direction is one of the featured artist this year at iHeartRadio Music Festival and the Alliance Lupus Research is offering a package including both days of the festival, parties and other exclusive events for a tax deductible donation.
One Direction to travel on tour with mobile recording studio

30
Sep
One Direction will apparently record new music as they tour around the world.
The British boyband – comprising Harry Styles, Liam Payne, Zayn Malik, Niall Horan and Louis Tomlinson – will travel with a mobile recording studio next year. It seems the group made the decision so they entertain fans while finishing off their fourth album.
"One Direction will travel with their own studio in tow when they play stadium dates. It's going to cost a few quid but then, considering the amount of cash they're making on the tour, they can afford it," a source told British newspaper The Sun.
"The boys are all writing more and more themselves these days so it will allow them to develop as songwriters. Because of the shows across the globe they'll have no time out to record so this is the best way to get the fourth album done."
One Direction will be travelling to South America in April next year as part of their Where We Are tour, before they carry on performing across Europe.
"It was all worked out as part of the deal they did with Simon Cowell and Syco records earlier this month," an insider added.
It was recently reported that One Direction had signed a new deal worth £10 million with music mogul Simon Cowell.
This will see the heartthrobs release another three albums under Simon's Syco record label by 2016.
Two of the albums will feature new material, while the third will be a greatest hits compilation.
One Direction's third album, Midnight Memories, is slated for release in late November.
It includes their recent hit single Best Song Ever.
One Direction adds more concert dates in Europe for 2014 world tour

22
Sep
On Sept. 19, 2013, One Direction announced more concert dates in Europe for the group's 2014 tour, which will have One Direction headlining stadiums for the first time. Tickets for the added concert dates go on sale on Sept. 28, 2013.
One Direction is the biggest-selling act to emerge from "The X Factor." (One Direction came in third place on "The X Factor" U.K. in 2010.) The group's sold-out 2013 world tour of arenas went to Europe and North America, and goes to Australia and New Zealand in September and October. Many of these tour dates sold out a year in advance.
As previously reported, One Direction's third album, "Midnight Memories," is set for a worldwide release on Nov. 25, 2013. "Midnight Memories." is expected to debut at No. 1 in several countries, as did One Direction's first two albums: "Up All Night" and "Take Me Home."
"Best Song Ever," the first single from "Midnight Memories," was a Top 10 hit in many countries when it was released in July 2013. The other songs on "Midnight Memories" are to be announced.
Here are the updated tour dates for One Direction's 2014 tour. The recently added dates have asterisks next to them. More tour dates are to be announced.
April 25, 2014: Bogota, Colombia — Estadio El Campin
April 27, 2014: Lima, Peru — Estadio Nacional
April 29, 2014: Asuncion, Paraguay — Jockey Club Paraguayo
May 1, 2014: Santiago, Chile — Estadio Nacional
May 3, 2014: Buenos Aires, Argentina — Velez Sarsfield
May 6, 2014: Montevideo, Uruguay — Estadio Centenario
May 8, 2014: Rio de Janeiro — Apoteose
May 10, 2014: Sao Paulo — Palmeiras Arena
May 23, 2014: Dublin — Croke Park*
May 24, 2014: Dublin — Croke Park
May 25, 2014: Dublin — Croke Park
May 28, 2014: Sunderland, England — Stadium of Light
May 30, 2014: Manchester, England — Etihad Stadium*
May 31, 2014: Manchester, England — Etihad Stadium
June 1, 2014: Manchester, England — Etihad Stadium
June 3, 2014: Edinburgh, Scotland — Murrayfield
June 6, 2014: London — Wembley Stadium*
June 7, 2014: London — Wembley Stadium
June 8, 2014: London — Wembley Stadium
June 13, 2014: Stockholm — Friends Arena*
June 16, 2014: Copenhagen, Denmark — National Stadium Parken*
June 20, 2014: Paris— Stade de France*
June 24, 2014: Amsterdam— Amsterdam Arena*
June 28, 2014: Milan— Stadio San Siro*
July 2, 2014: Dusseldorf, Germany — Espirit Arena*
July 4, 2014: Berne, Switzerland — Stade de Suisee*
July 8, 2014: Barcelona, Spain — Estadi Olimpic*
July 10, 2014: Madrid — Vicente Calderon*
July 13, 2014: Porto, Portugal —Dragao Stadium*
*Added date. Tickets go on sale on Sept. 28, 2013.
One Direction band member Liam Payne apologises to Adelaide fans

22
Sep
ONE Direction star Liam Payne has apologised to his Australian fans, some of whom were left in tears, after he and his band mates secretly snuck out of Adelaide Airport.
Three-fifths of the boy band flew into Adelaide together on Sunday after catching a flight from Dubai on Saturday night, ahead of their highly anticipated Take Me Home tour.
Up to 200 eager girls had been waiting for hours to catch a glimpse of their idols, but excitement soon turned to disappointment when Payne, Zayn Malik and Louis Tomlinson bypassed their fans through a door at the back of the airport.
"Sorry we couldn't stop in the airport they said it wasn't safe ???? great to be in oz tho (sic)," Payne tweeted on Sunday.
Several girls were in tears after spending up to 13 hours waiting to see their idols, News Corp Australia reported.
Georgia, 17, told News Corp that she was angry that the stars didn't greet their fans.
"I just feel really let down because we were so excited to see them and the least they could have done was poke their head out and wave before they left," she said.
Harry Styles arrived solo, landing in Melbourne from Los Angeles Sunday morning before catching a connecting Qantas flight to Adelaide.
The 19-year-old heart-throb had to leap over seats to escape the throng of teenage girls who were waiting for him as he boarded the domestic flight.
The final band member, Niall Horan is expected to arrive in Australia on Monday.
"This is gona be soo fun ! I love it down under! Obsessed! Gona be a huge 5 weeks! Between aus and nz ! Uready for TMHT" Horan tweeted ahead of his arrival.
One Direction will play three sold-out concerts at the Adelaide Entertainment Centre from Monday night heading to Perth, Christchurch and Auckland before returning to Australia for shows in Melbourne, Sydney and Brisbane.